Dr. Richard Grossman's Biography
My fascination and commitment to healing started quite early in life. I am the son of a pharmacist, so I grew up in a medical environment and always was fascinated with medicines, pills, medical knowledge, and other aspects of what I experienced while quite young.
Unfortunately, growing up in a medical based environment didn't do much for my health. Every illness had a solution. A cold - take antibiotics; headache - take aspirin; stomach ache - take a smooth muscle relaxant. It went on. In middle school, my digestive system started to rebel, and continued to get worse throughout high school. Finally, the proverbial poop hit the fan, both figuratively and almost literally.
I was living on a farm in Southern Oregon. My health had degenerated to the point where I was too weak to participate with normal activities and chores. I had already spent a year and a half as a strict vegetarian, following mainly a raw food diet and taking various herbs I had read about. . I was convinced that I should be able to heal myself with the wisdom I was receiving from the dozens of spiritual and health related books I had read. Unfortunately, all that happened was that I got worse, and worse.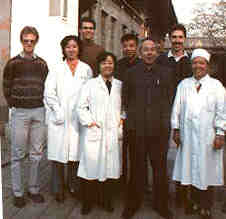 In desperation I went to a medical doctor who asked me how much money I had for medical tests and treatment and treatments he thought I would need. When he gave me a starting figure of several thousand dollars more than I had or could get, I asked some friends what I should do. They directed me to a Native American trained healer.
She was a wonderful 86 year old woman who lived with her family on a farm in Central Oregon. For the next several weeks, this amazing woman took me into her family's home. I was put on a carefully restricted diet of mainly fresh goats milk yogurt, garden vegetables and fruits. She took me on daily forays into the surrounding hills to collect wild herbs. Every day I received her skilled reflexology treatments. This proved to be the first step on my journey towards wellness and becoming a healer.
Shortly thereafter I was fortunate enough to spend time in India, studying meditation on the banks of the Ganges. There, the seeds of understanding the spiritual aspects of healing were planted. Over the course of 10 more years, these seeds continued to germinate and grow into a decision to dedicate my life to helping others on their paths towards healing and health.
In the mid-seventies, I studied further aspects of natural healing: massage, macrobiotics, juice fasting, yoga, martial arts, Oriental philosophy, etc., all led towards one major event. In 1979 I began my formal education in Oriental Medicine at the California Acupuncture College.
After three years of intensive study, I was fortunate to be one of three students from my school to attend a World Health Organization sponsored acupuncture training in Beijing, PRC.
The time I spent in Beijing was a heaven of education. Every day we spent 4 hours in a clinic under the eyes of highly experienced acupuncturists. The faculty was incredible. The least experienced teacher had been in practice 17 years, and the most experienced teacher had a beard with two or three strands or gray hair reaching to his navel.
After graduating from California Acupuncture College, my fascination and love for learning continued to manifest. Over the next years, in addition to growing and maintaining a private practice, I was able to earn a Masters in Acupuncture, a Doctor of Oriental Medicine degree, a Ph.D. in Oriental Medicine, a Diplomat in Acupuncture, a Diplomat of Pain Management, and a Diplomat in Acupuncture Orthopedics.
In 1991, I took a three year working sabbatical to Central Mexico where I was able to delve into some of the traditional healing techniques of that wonderful and magical culture. I returned to the U.S. in 1994, having recommitted myself to assisting others in the healing and transformation of their lives. I currently live in the beautiful Santa Monica Mountains with my amazing dog, Dassi.
Follow this link to view my Curriculum Vitae.